The USA's most popular log splitter valve. Specified by more log splitter OEM's than any other brand. Spring centered in one direction, and pressure released detent in the other direction. Automatically kicks back to neutral when cylinder completes stroke. Includes built-in adjustable inlet relief valve. Handle can be installed in either "up" or "down" position. For use with up to five (5) inch bore cylinders. Made in the USA.
Zero (0) to 20 gpm (76 lpm) three-position, four-way, single-spool hydraulic directional control valve
Rated for 2,500 psig (172 bar) working pressure
Linear handle type operator
Spring-centered from "extend" position
Detent with hydraulic kickout from "retract" position
Inlet relief valve pre-set to 2,000 psig +/- 200 psig (138 bar +/- 14 bar), but adjustable
Pre-set kickout pressure of 750 psig to 2,000 psig (52 bar to 138 bar)
1/2″ NPTF work ports
3/4″ NPTF inlet and outlet ports
NOTE! Maximum flow rate for the inlet relief valve is 10 gpm (38 lpm)
IMPORTANT!!! Pressure at "T" (return) port in excess of 200 psig (14 bar) may interfere with proper operation of valve. Consult factory if back pressure of over 200 psig (14 bar) is present.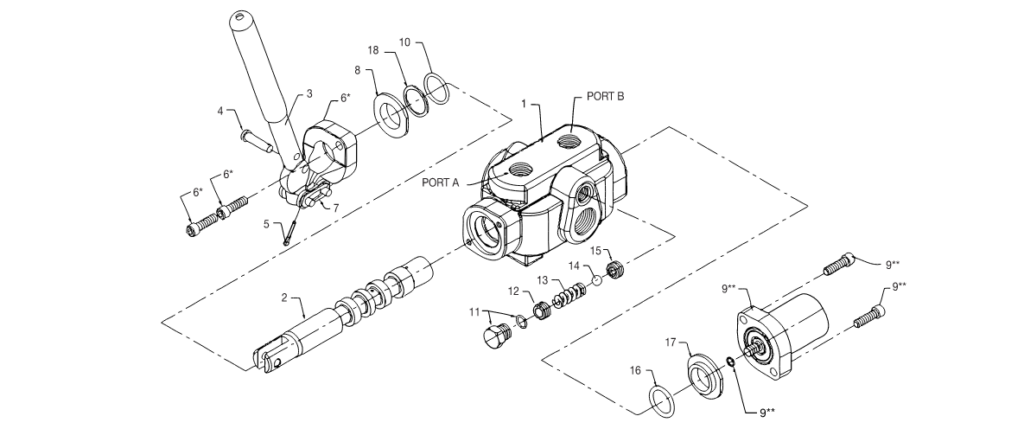 Shop for the part you need
| | | | | | | |
| --- | --- | --- | --- | --- | --- | --- |
| | | | Log Splitter Valve, 4-way tandem center with relief valve, detent hold with hydraulic kickout in "A" and Spring centered to neutral from "B" | | | |
| | | | CONTROL VALVE BODY (NOT SOLD SEPARATELY) | | | |
| | | | VALVE SPOOL (NOT SOLD SEPARATELY) | | | |
| | | | | | | |
| | | | | | | |
| | | | | | | |
| | | | LEVER BRACKET WITH SCREWS | | | |
| | | | | | | |
| | | | | | | |
| | | | DETENT COVER ASSEMBLY WITH SCREWS AND INSTRUCTIONS | | | |
| | | | O-RING (INCLUDED IN SEAL KIT, P/N 0A007238) | | | |
| | | | | | | |
| | | | | | | |
| | | | | | | |
| | | | | | | |
| | | | | | | |
| | | | O-RING (INCLUDED IN SEAL KIT, P/N 0A007238) | | | |
| | | | | | | |
| | | | BACK-UP RING (INCLUDED IN SEAL KIT, P/N 0A007238) | | | |
| | | | | | | |
| | | | | | | |
| | | | | | | |
| | | | LEVER BRACKET WITH SCREWS | | | |