CVA and DCVA directional control valves; for flows up to 20 GPM (76 LPM) and working pressures up to 2,500 psig
Spring Return and Detent Options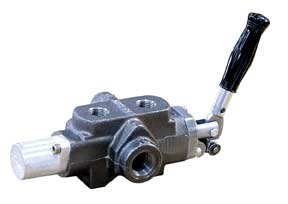 These 20 GPM (76 LPM) manual spool valves are available with an externally adjustable pressure relief valve on all but the closed center models. NOTE: The maximum recommended flow rate for the internal relief valve at 2,500 PSIG (172 bar) is 10 GPM (38 LPM). They are offered in both three-way and four-way versions, with a wide range of spool options available.
CVA designated models feature spring-centered operation, while DCVA designated models feature mechanical spool detents. The valve bodies are constructed from fine gray iron castings, and the spools are precision ground and chrome-plated steel. Pressure and return ports are 3/4 inch NPTF, and cylinder ports are either 1/2 inch or 3/4 inch NPTF. SAE o-ring boss ports are also available as an option. Relief valve pressure ranges are 400 to 2,500 PSIG (28 to 172 bar).
If not customer specified, assemblies are automatically furnished with relief set at 2,000 PSIG (138 bar) at 10 GPM (38 LPM). For units without a relief valve function, please consult our factory.
CAUTION: Relief valve pressure adjustments should not be made while the system is under pressure.
WARNING: CVA & DCVA valves do not contain load checks and therefore should not be used in lifting applications unless some other means of holding the load is provided by the customer.
Shop for the part you need
| | | | | | |
| --- | --- | --- | --- | --- | --- |
| | CVA-100; Three-Way Tandem Center with Relief Valve; Spring Return to Neutral Both Directions; 1/2″ NPTF Work Ports | | | | |
| | CVA-200; Four-Way Tandem Center with Relief Valve; Spring Return to Neutral Both Directions; 1/2″ NPTF Work Ports | | | | |
| | DCVA-100; Three-Way Tandem Center with Relief Valve; Detent Hold All Positions; 1/2″ NPTF Work Ports | | | | |
| | DCVA-200; Four-Way Tandem Center with Relief Valve; Detent Hold All Positions; 1/2″ NPTF Work Ports | | | | |
| | DSCVAC-200; Four-Way Closed Center – No Relief Valve; Detent Hold in "A" with Spring Return to Neutral from "B"; 1/2″ NPTF Work Ports | | | | |
| | DCVAC-200; Four-Way Closed Center; No Relief Valve; Detent Hold in All Positions; 1/2; NPTF Work Ports | | | | |
| | DSCVA-200; Four-Way Tandem Center with Relief Valve; Detent Hold in "A" with Spring Return to Neutral from "B"; 1/2″ NPTF Work Ports | | | | |
| | CVAC-100; Three-Way Closed Center – No Relief Valve; Spring Return to Neutral Both Directions; 1/2″ NPTF Work Ports | | | | |
| | CVAC-200; Four-Way Closed Center – No Relief Valve; Spring Return to Neutral Both Directions; 1/2″ NPTF Work Ports | | | | |
| | CVAM-200; Four-Way Open Center with Relief Valve; Spring Return to Neutral Both Directions; 1/2″ NPTF Work Ports | | | | |
| | DCVAM-200; Three-Way Open Center with Relief Valve; Detent Hold All Positions; 1/2″ NPTF Work Ports | | | | |
| | DCVAM-200; Four-Way Open Center with Relief Valve; Detent Hold All Positions; 1/2″ NPTF Work Ports | | | | |
| | | | | | |
| --- | --- | --- | --- | --- | --- |
| | CVA-100; Three-Way Tandem Center with Relief Valve; Spring Return to Neutral Both Directions; 3/4″ NPTF Work Ports | | | | |
| | CVA-200; Four-Way Tandem Center with Relief Valve; Spring Return to Neutral Both Directions; 3/4″ NPTF Work Ports | | | | |
| | DCVA-100; Three-Way Tandem Center with Relief Valve; Detent Hold All Positions; 3/4″ NPTF Work Ports | | | | |
| | DCVA-200; Four-Way Tandem Center with Relief Valve; Detent Hold All Positions; 3/4″ NPTF Work Ports | | | | |
| | CVAC-200; Four-Way Closed Center – No Relief Valve; Spring Return to Neutral Both Directions; 3/4″ NPTF Work Ports | | | | |
| | CVAM-200; Four-Way Open Center with Relief Valve; Spring Return to Neutral Both Directions; 3/4″ NPTF Work Ports | | | | |
| | DCVAC-200; Four-Way Closed-Center; No Relief Valve; Detent Hold In All Positions; 3/4″ NPTF Work Ports | | | | |
| | DCVAM-100; Three-Way Open Center with Relief Valve; Detent Hold All Positions; 3/4″ NPTF Work Ports | | | | |
| | DCVAM-200; Four-Way Open Center with Relief Valve; Detent Hold All Positions; 3/4″ NPTF Work Ports | | | | |