Rotary actuated directional control valves; for flows up to 20 GPM and working pressures up to 2,500 psig.
CVR Series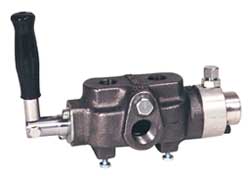 These units are designed so that the valve handle is rotated to actuate the spool, as opposed to shifting the spool axially. This provides finer metering control. These valves incorporate a mechanical detent in the neutral position, but should be manually held in their operating positions. NOTE: The maximum recommended flow rate for the internal relief valve at 2,500 PSIG (172 bar) is 10 GPM (38 LPM).
CAUTION: Relief valve pressure adjustments should not be made while the system is under pressure.
WARNING: These valves do not contain load checks and therefore should not be used in lifting applications unless some other means of holding the load is provided by the customer.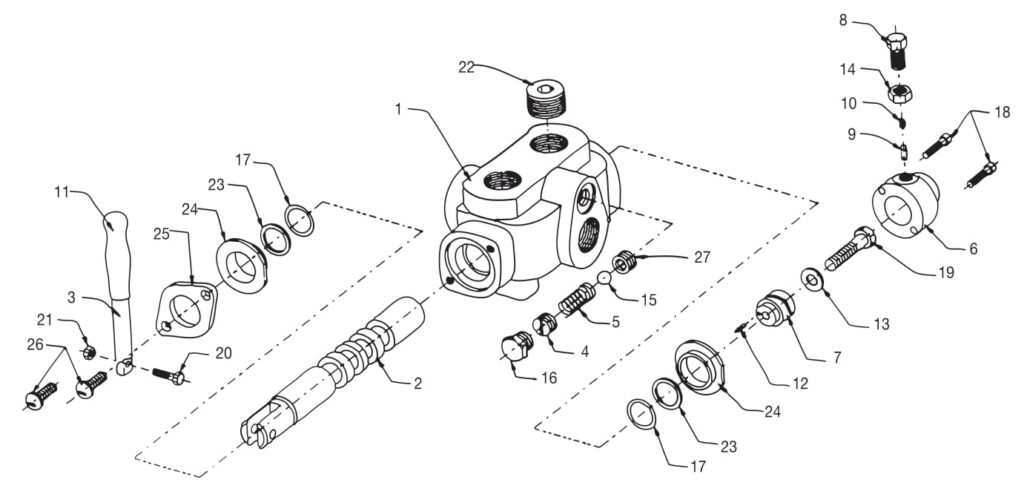 Model CVR-100 (3-Way)
Model CVRM-100 (3-Way)
Model CVR-200 (4-Way)
Model CVRM-200 (4-Way)
Shop for the part you need
| | | | | | |
| --- | --- | --- | --- | --- | --- |
| | CVR-200; Rotary Spool Four-Way Tandem Center with Relief Valve; 1/2″ NPTF Ports | | | | |
| | CVRC-200; Rotary Spool Four-Way Closed Center – No Relief Valve; 1/2″ NPTF Ports | | | | |
| | CVRM-200; Rotary Spool Four-Way Open Center with Relief Valve; 1/2″ NPTF Ports | | | | |
| | | | | | |
| --- | --- | --- | --- | --- | --- |
| | CVR-200; Rotary Spool Four-Way Tandem Center with Relief Valve; 3/4″ NPTF Ports | | | | |
| | CVRC-200; Rotary Spool Four-Way Closed Center – No Relief Valve; 3/4″ NPTF Ports | | | | |
| | CVRM-200; Rotary Spool Four-Way Open Center with Relief Valve; 3/4″ NPTF Ports | | | | |